Reading Time:
7
minutes
*I frequently get asked questions about Data Science, so in the interest of helping as many people as possible, I've started this blog to answer those questions as simply as possible. This is a robust topic, and if you want a more in-depth discussion, please revisit my blog, where we will be going into greater depth at another time.
Big data takes massive amounts of information and transforms it into a usable resource for companies. Learn these five ways companies use it to create a connected client experience and maximize their ROI.
Big data (BD) generates 2.5 quintillion bytes daily, and IBM estimates that nearly 90% of it was created in the last few years. From a global perspective, BD tracks human economic behaviors, market trends, and asset allocation so that companies can interact with the target markets more efficiently and make better data-driven decisions. Massive data sets are also essential for researching and developing new products and services for continued growth.
Companies use BD to understand variable human and economic indicators to structure more effective products and services. They find trends in a company's customer behavior and extract crucial information for a data-driven advantage.
"Successful companies use BD to find profitable outcomes, not to test theories."
A data scientist helps companies make sense of all of the data they are collecting so that they can make more informed decisions and tailor the sales function and the customer outreach in the most effective way and thus create a more connected client experience.
Table of Contents
Big Data and the Connected Client Experience
4 Ways Companies Are Using Big Data to Help Their Customers
#1. Personalized Goods and Services
#4. Predict Customer Behavior and Increase Profitability
Tips for Creating a Connected Client Experience with Big Data
Big Data Definition
Big data is like water pouring from a massive fire hose, whereas traditional data is like water trickling from a tiny garden hose. The latter is easier to handle, organize, manage, and understand. The former can be overwhelming without a data scientist or analyst to make sense of it all. Aggressive companies know this, evidenced by their capital allocation for BD integration.
BD comes from complex or multi-faceted sources and is too massive for traditional processing software. The more information you gather, however, the greater your chances of false discoveries, miscommunication, and oversights. A data scientist helps collate, organize, and visualize the findings.
BD allows companies to store, analyze, track, and manage bulk information about particular assets or operations. It lets them peer into consumer behavior to evaluate real-time feedback and combine data with predictive machine learning. Think of it as a macro tool to pinpoint what your eyes can't see, bringing order out of chaos in aggressive arenas and transforming it into measurable growth.
TIP: Customize data collection and analysis to achieve specific objectives and adapt as needed to client inclinations.
What is Big Data Used For?
Companies use big data for pattern recognition, product development, marketing, and policy-making. Companies also utilize it to determine strategic partnerships. BD is everywhere and integrated into everything.
The Five V's of BD
Since BD draws information from several sources, a data scientist must identify and manage multiple details. The five V's help Companies prevent costly oversights and avoid false findings.
Volume – How much data a company collects from each stream
Value – What a data collection is worth in specific industries
Variety – Which sources are most relevant and revealing
Velocity – Where the data fits into an investment portfolio
Veracity – Whether the information is aligned with investing goals
"BD casts a wide net. A Data Scientist's job is to put it to good use."
Big Data Examples
Some experts say big data is the key to the connected client experience, but why? Perhaps it's because massive data sets can reveal actionable insights within massive data collections. BD also helps companies develop goods and services to better serve their customers.
BD allows teams to quickly process, share, and integrate information for better evaluations of processes or products. Today, a great deal of software exists to simplify, filter, and sort large data sets. But in order to make use of this data, data scientists can use tools like data visualization tools and user-friendly interfaces that help companies gather real-time feedback and help companies be more nimble, and offer a level of personalization to their customers that were not available previously.
Let's look at a few everyday examples to understand how companies might use BD better:
Payment Processing Systems – Manage accounts to pinpoint VIP clientele, buying trends, and get product feedback.
Customer Contact Databases – Stay in touch with prospects, partners, and potential customers to build leads and organize follow-ups.
Email Servers and Campaigns – Create targeted, personalized email funnels based on specific purchases and buying intent.
Corporate Documents – Develop and maintain files for customers, employees, and stakeholders to review, update, and research.
Customer Service Reports – Track customer satisfaction with BD tools designed to organize feedback for analysis and integration.
Performance Records – Trace compliance and complaints while protecting against liability.
Social Media Stats – Watch your social platforms grow, targeting specific groups based on tailored categories aimed at your goals.
The Harvard Business Review weighed in on the importance of BD and the connected client experience. According to their studies, customers who feel connected or understood by a business are 50% more likely to return and rebuy than a person who does not. Personalization and customer insight foster the feeling of connectedness and being "understood".
"The science of customer emotions is a company's path to profitability, and BD is the vehicle to take them there."
Big Data and the Connected Client Experience
Businesses competing in the digital economy must prioritize the connected customer experience because customers have plenty of options, and many companies compete for their attention. BD helps companies understand and improve their operations, fostering more meaningful interactions with the brand. In turn, BD supports company growth and makes businesses more appealing.
Data sources multiply yearly, but only the organizations truly taking advantage of what BD has to offer will flourish. Customers are less likely to find, trust, and remember a business that does not personalize the experience and demonstrate a solid knowledge of what the customer needs and wants. The connected client experience depends on a company's ability to relate, magnify, and serve. Competitive companies need BD to help drive innovation and maximize profitability.
4 Ways Companies Are Using Big Data to Help Their Customers
Standard data analytics can't keep up with BD potential. Here are five ways businesses are using that to their advantage:
#1. Personalized Goods and Services
Companies use BD to tailor the customer experience to make each interaction count. Businesses create personalized advertising, targeted promotions, and customized product recommendations with it. They turn websites and digital marketplaces into revolving data points that help motivate sales and align consumer demands with company goals. Some even use BD to categorize inventories by customer preferences, traits, or trends.
#2. More Relevant Audiences
Some might think they know their market inside and out, but BD can suggest otherwise. Take Victoria's Secret, for example. Executives were sure their target audience was a specific age group and body type. After a comprehensive analysis of various data sources, they discovered something different and corrected the course for a more diverse base.
Now, the brand's ROI has increased dramatically. The efficient use of BD and data visualization can point to new target audiences or trends that are not immediately evident. Companies that take advantage of these insights have a better chance of dominating their markets
#3. Enhanced Decision-Making
BD provides actionable insights about customer engagement across multiple platforms, allowing companies to compare stats and make data-driven decisions. This also helps marketing teams determine whether customers are clicking through or clicking away.
Executives can use the conversion data to adjust strategies, foster productivity, prevent organizational delays, and support marketing campaigns with fewer snags.
"Discover burning customer insights with BD, and use it to make conscientious decisions while the iron is hot."
#4. Predict Customer Behavior and Increase Profitability
Companies often wonder how a particular product will sell or a brand will perform after changes. Savvy companies are also concerned about the quality of marketing content. Both factors can contribute to a company's current and future value. Unfortunately, businesses can't always ask for or receive the direct feedback required for profitable decision-making.
BD, analytics, and visualization allow teams to understand and predict consumer behavior. Is a brand based on fleeting fads, or will the product exist for years? Data scientists can analyze a trove of customer and market information to perform a sentiment analysis on different products for eye-opening insights.
Tips for Creating a Connected Client Experience with Big Data
BD is about more than crunching numbers and monitoring metrics. When used correctly, it opens many doors for opportunities, improvements, and customer-facing interactions.
Here are five quick tips for a connected client experience using BD:
Build a customer database and use automated software for timely analysis.
Allow BD to help you personalize offers for a more nuanced offer.
Identify and mitigate the most aggressive risks and internal threats.
Determine consumer pain points and eliminate them.
Exploit BD to anticipate customer desires and stay ahead of the curve.
Discuss the advantages of BD for creating a connected client experience by researching all the different AI and machine learning tools available to truly gain insight from the mountains of data and provide customers and potential customers with the targeted and personalized products, services, and offers that will make them life-long advocates for your company.
Conclusion
Big data anchors the modern world and provides essential information to businesses about their operations and customers. Integrating BD for a competitive edge is the most comprehensive business intelligence approach a company can take. Use it to track consumer behavior, predict market trends, monitor performance, and make better business decisions.
Drive innovation, expand your reach, and promote a connected client experience across your company, products, and/or services. Work with a data scientist to develop a tailored strategy to take advantage of the benefits of BD today.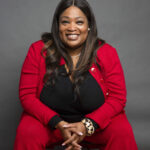 About the Author
Tiffany Perkins-Munn orchestrates aggressive strategies to identify objectives, expose patterns, and implement game-changing solutions with an agility that transcends traditional marketing. As the Head of Data and Analytics for the innovative CDAO organization at J.P. Morgan Chase, her knack involves unraveling complex business problems through operational enhancements, augmented financials, and intuitive recruiting. After over two decades in the industry, she consistently forges robust relationships across the corporate spectrum, becoming one of the Top 10 Finalists in the Merrill Lynch Global Markets Innovation Program.
Dr. Perkins-Munn earned her Ph.D. in Social-Personality Psychology with an interdisciplinary focus on Advanced Quantitative Methods. Her insights are the subject of countless lectures on psychology, statistics, and real-world applications. As a published author, coursework developer, and Dissertation Committee Chair, Tiffany still finds time for family and hobbies. Her non-linear career path has given her an exclusive skill set that is virtually impossible to reproduce in another individual.