Reading Time:
8
minutes
*I frequently get asked questions about Data Science, so in the interest of helping as many people as possible, I've started this blog to answer those questions as simply as possible. This is a robust topic, and if you want a more in-depth discussion, please revisit my blog, where we will be going into greater depth at another time.
AI marketing strategies automate aspects of your marketing efforts while prioritizing speed and efficiency. It can boost the performance of your marketing campaigns, increasing your ROI. If you want to enhance your marketing efforts and reach more customers, these tips will help you get set up for success.
AI marketing uses artificial intelligence technologies to produce consumer insights and make automated, data-backed decisions. In a data-driven world where speed and efficiency are critical, AI marketing can help boost the performance of digital marketing campaigns. This can increase your ROI on marketing spending and boost your campaign's effectiveness.
Large platforms, like Google Ads, use AI and machine learning tools to enhance advertising. However, what other ways can you use AI marketing? Let's explore the possibilities.
Table of Contents
Foundational Types of AI Marketing
#2. Personalization for Better Customer Relationships
Designing an AI Marketing Strategy
What is AI Marketing?
AI marketing uses artificial intelligence tools and tech to make automated decisions based on the data it gathers and analyzes.
"AI marketing tools can analyze data to communicate with customers and then deliver targeted messaging at the most effective time for maximum efficiency."
Hence, AI marketing is valuable when speed is a top priority.
The core of any marketing effort includes understanding your customer's needs and matching them to the most relevant products or services. These are things your human marketing team can certainly do. Still, if you begin implementing AI marketing strategies, you're bound to see a dramatic increase in efficiency and success. Here's why.
AI can guide your customers through every step of the customer journey, from consideration to buying. It can nudge customers in a specific direction, provide product recommendations, and personalize offers. Some can even help after the sale by handling inquiries about shipping times and product quality.
Artificial intelligence is a vast field with varying information and uses cases. In the case of AI marketing, you can divide the concept into two different types of intelligence that work together to make AI marketing possible:
#1. Task Automation
Task automation is exactly what it sounds like. These applications perform repetitive tasks that require relatively low levels of intelligence. They're designed to follow the rules and execute predetermined operations based on a given input. Still, they're not capable of handling more complex or nuanced problems.
This could be an automatic welcome email sent to every new customer you get or simple chatbots, like those on Facebook Messenger. Task automation technology can be beneficial, but it can't offer customized responses or learn from the interactions it has over time.
#2. Machine Learning
Machine learning consists of more complex algorithms trained to work with large quantities of data and make more advanced decisions and predictions. Machine learning tools can recognize images, decipher texts, and anticipate how customers may respond to various initiatives, messaging, or promotional materials.
Foundational Types of AI Marketing
AI marketing can be a stand-alone or integrated application. Stand-alone applications are isolated AI programs separate from the primary channels used by your customers and employees. On the other hand, integrated applications are embedded within existing systems. They're less visible than stand-alone systems. Netflix's integrated machine learning tech providing personalized recommendations is an example.
"Combining different types of artificial intelligence and application structures can yield varying frameworks for your AI marketing strategy."
You could implement stand-alone task automation apps like customer service chatbots or something more advanced. Check out integrated machine learning apps that provide product recommendations or digital ad buying.
AI Marketing Strategies
There is a long list of use cases for AI in marketing. The practices you choose will depend on what you're hoping to achieve by using artificial intelligence. Maybe you want to improve your communication with customers, sell more products, or examine data to better understand whom you're reaching and serving. Luckily, there's an AI marketing strategy for all those things and more:
#1. Content Creation
Content for social media, blogs, and promotional emails is critical to your marketing efforts. You also want to generate a lot of it. Creating quality content can take a lot of time and resources, especially on a large scale. Fortunately, you can use AI marketing tools to help.
These tools can create content that is customer-focused and serves a purpose to your consumer base. AI tools for content creation maximize your marketing team's efficiency by automating daily tasks like generating email content or sending personalized messages. This frees your marketing team to tackle bigger and better projects while pushing quality content.
#2. Personalization for Better Customer Relationships
If you've been in the marketing game long enough, you likely know that people love personalization. From personalizing preferences on websites and socials to sending custom, targeted content, your consumers like to feel like you understand them and know who they are.
Every customer your business reaches will have different values, beliefs, experiences, etc. Suppose you send every customer the same messaging or content. In that case, you're wasting time and money because you'll miss out on large portions of your audience who don't respond to that marketing.
Tapping into customer data about age, location, online interaction, and financial status can help AI create customer profiles. Then, you can generate higher engagement and conversion rates with that information. This customer data will reveal your customers' wants and how to target them best.
#3. Sales Forecasting
To be successful in your business endeavors, it helps to be able to look into the future a bit. There's AI marketing software that uses predictive analytics to forecast sales. This means that while your marketing team is working on tasks, they can use AI to generate predictions on the payout.
This also prevents your marketing team from wasting time on projects that aren't worth scaling. AI marketing relies on machine learning to run predictive analytics and can be used to forecast sales KPIs like these:
Conversion Rates
Cost Per Acquisition
Customer Lifetime Value
Customer Retention Rate
Average Sales Cycle Length
You can determine what efforts are helping vs. which are holding you back. Take the information and make changes to get your marketing efforts back on track. Then use sales forecasting to predict what customers may purchase next.
#4. Data Analysis
"Because AI revolves around data, data analysis plays a massive part in AI marketing strategies."
AI and machine learning tech constantly analyze data and provides critical information like consumer insights and various trends and patterns.
The insights gathered from analyzing data can be used to enhance your decision-making. Not only will your decisions be backed by your company's data, but you'll also be able to reach conclusions much faster. Without AI marketing tools, you'd have to sift through your company's data and identify patterns manually. AI technology can do it in minutes or even seconds.
#5. Campaign Monitoring
When you launch a marketing campaign, it makes sense that you want to keep tabs on how it's performing. Ensure the time and money you're putting into your marketing campaigns are paying off using AI for campaign monitoring. While campaign monitoring is important, it's time-consuming and can be streamlined using AI marketing tools.
Do this by integrating AI software and channels like Google Ads and Facebook Ads Manager into your campaigns. The software will learn the average behavior of your campaign materials, and you can carry on as usual until you see any unusual activity. Cut off campaigns that aren't performing well, and stop wasting money. Or boost a strategy making waves to increase sales.
#6. Improved Customer Service
Customer service is an integral part of your business reputation and marketing strategy. However, it can also impact genuine customer relationships. AI chatbots are extremely common and pop up on various websites, answering basic questions. Many are designed to have scripts and can respond to simple inquiries like a human representative.
Chatbots are also available 24/7, so you can offer your customers around-the-clock support. This improves your business's relationship with its customers and frees your customer service team to focus on the more complex issues and inquiries. Some companies even use it to offer goods and services on a global scale.
Designing an AI Marketing Strategy
Suppose your marketing team has limited AI experience. In that case, you can start by building or purchasing a simple rule-based application. It's always best to start small. Work with a data scientist to learn the basics of deploying an effective AI marketing strategy.
When your marketing team has a basic understanding of AI tools and data science, they can move to machine learning tools and operations. This cycle will continue as your company becomes more comfortable using AI marketing tools.
"Level up with more sophisticated processes."
Ultimately, the goal is to automate and enhance the marketing process as much as possible while keeping efficiency top of mind. Starting your AI marketing journey with a clear plan outlining your goals is essential. Before you dive in, you should think about some of these critical factors:
#1. Goals
Establishing clear goals is one of the first steps to success for any marketing strategy, whether you're using AI or not. You should start by identifying areas in your campaigns and operations that could be improved by implementing AI strategies. It also helps to establish clear KPIs to track how successful your AI marketing plans have been.
#2. Data Privacy
Your AI marketing strategies will rely on customer data, so ensure that your new AI-driven initiatives won't cross any data privacy boundaries. To maintain compliance, establish and program privacy standards into your AI marketing platforms.
#3. Data Quantity
If you're starting an AI marketing strategy, you need a lot of data. The data will be used to train the AI tools on your company's specifics. It will also help reveal preferences and trends that you can use to evaluate campaign effectiveness.
#4. Hire Talent
Your marketing team doesn't have to be skilled in AI. Join forces with a data scientist to get your AI marketing strategies off the ground. Data scientists can help your marketing team bring the best start. Many are also on standby for maintenance to ensure your AI marketing initiatives are at their peak performance.
#5. Data Quality
While it's essential to have a lot of data, it's also crucial that it's high-quality and error-free to ensure the insights you gather are accurate. This is where data cleansing and data maintenance processes come in. Ask your data scientist for more information and help to sort through big data sets.
Conclusion
AI marketing uses artificial intelligence technologies to produce consumer insights and make automated, data-backed decisions. In a data-driven world where speed and efficiency are essential, AI marketing can help boost the performance of digital marketing campaigns. It can also increase your ROI on marketing spending and enhance campaign effectiveness.
There is a long list of use cases for AI in marketing. The practices you choose will depend on what you're hoping to achieve by using artificial intelligence. Regardless of your goals, there is an abundance of AI marketing strategies for you to deploy to enhance your business's efforts and marketing efficiency.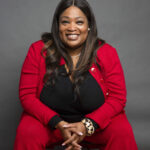 About the Author
Tiffany Perkins-Munn orchestrates aggressive strategies to identify objectives, expose patterns, and implement game-changing solutions with agility that transcends traditional marketing. As the Head of Data and Analytics for the innovative CDAO organization at J.P. Morgan Chase, her knack involves unraveling complex business problems through operational enhancements, augmented financials, and intuitive recruiting. After over two decades in the industry, she consistently forges robust relationships across the corporate spectrum, becoming one of the Top 10 Finalists in the Merrill Lynch Global Markets Innovation Program.
Dr. Perkins-Munn earned her Ph.D. in Social-Personality Psychology with an interdisciplinary focus on Advanced Quantitative Methods. Her insights are the subject of countless lectures on psychology, statistics, and real-world applications. As a published author, coursework developer, and Dissertation Committee Chair, Tiffany still finds time for family and hobbies. Her non-linear career path has given her an exclusive skill set that is virtually impossible to reproduce in another individual.