Reading Time:
8
minutes
*I frequently get asked questions about Data Science, so in the interest of helping as many people as possible, I've started this blog to answer those questions as simply as possible. This is a robust topic, and if you want a more in-depth discussion, please revisit my blog, where we will be going into greater depth at another time.
Data literacy allows you to fully leverage the power of data to gather insights, make decisions and position your business for future success. In the growing digital landscape, it's crucial to emphasize the importance of data literacy within your organization; you can use these tips to get started.
Data literacy is the ability to read, analyze and derive meaningful insights from data. The ability to interpret and understand data is critical, especially in business. Companies constantly collect data from a variety of sources for multiple reasons.
Being able to ascertain specific facts from data helps boost the user experience. It can also support entrepreneurship, small businesses, corporations, and NGOs. Data literacy makes the world go around, but what is it? How can you use it to master the future? Here is what you need to know.
Table of Contents
What Does Data Literacy Look Like?
Why is Data Literacy Important?
#1. Forms the Foundation of Data Governance
#2. Helps Make Ethical AI Decisions
#5. Promotes Future Success and Development
Implementing Data Literacy in an Organization
#1. Assess the Current Level of Data Literacy
#3. Develop Goals and Objectives
#4. Create a Data Literacy Program Including Training
#2. No Data-Focused Leadership
#5. Organizational and Data Silos
What is Data Literacy?
Data literacy is very similar to general literacy, which is the ability to gather meaningful information from the written word. It's the ability to read, analyze, communicate and pull insights from data. It also gives people and employees the skillsets to make decisions and work more efficiently with machines.
"Data literacy includes the understanding of different data sources and methods of analysis."
It's an underlying component of digital dexterity, a person's ability to use emerging technology to improve business outcomes. This is crucial in the digital world.
A poor understanding of information can be a massive roadblock within your business. It can also prevent you from excelling in the digital-first landscape. Achieving data literacy is a crucial step to becoming an affluent organization. When a company understands its metrics, it can make data-driven decisions that are often the most productive and effective.
What Does Data Literacy Look Like?
Achieving data literacy is no easy task. The complexity of data analysis and the magnitude of big data requires some knowledge of mathematics and statistics to comprehend fully. Because of its complexity, some businesses hire data scientists to manage analyses.
Harnessing the power of information is increasingly important to a business's success. Many organizations have begun requiring some level of data literacy from all their employees. On top of being able to read and gather insights, these other skills, and abilities matter:
Knowing what data is best to use for different purposes or projects
Interpreting visual data in the form of graphs and charts
Critical thinking
Understanding data analysis tools and when to use them
Recognizing misleading and inaccurate data
Communicating information from data (often called data storytelling)
Why is Data Literacy Important?
Businesses are collecting and storing more data than ever in today's environment. Still, without data literacy, they aren't extracting any value from it. A lack of competence stifles productivity and can prevent an organization from thriving in diverse environments.
"Data literacy gives your organization a competitive edge."
It sets you apart from those who aren't tapping into their data to make business decisions.
Review critical financial metrics
Check website and app feedback
Run comprehensive marketing campaigns
Analyze product and program performance
Improve everyday operations
Understand what the data tells you to set specific goals and key performance indicators (KPIs). Improve your standard and position your business for success. Approach your target audience more intuitively to leverage their pain points and buying habits.
Some of the key features of data literacy include:
Forms the foundation of data governance
Helps make ethical AI decisions
Leads to more innovation
Reduces data breaches
Promotes future success and development
Let's look at each one more closely.
#1. Forms the Foundation of Data Governance
Data governance is a set of policies and processes that define how an organization's data is managed. It ensures that information is readily available, relevant, high quality, and compliant with any regulations.
Data governance is vital to maintaining an organizational structure and ensuring the flow of basic operations. Still, strong data governance isn't possible without basic data literacy.
"Being data literate allows you to understand an ecosystem before setting up policies thoroughly."
Data literacy provides a solid foundation for your organization's data governance. The reason is that data-literate leaders understand the value and can deploy policies specific to your goals and operations.
#2. Helps Make Ethical AI Decisions
Artificial intelligence (AI) is another significant data-driven technological advancement that carries much weight in the business industry. It offers many practical applications and features that can help drive innovation. However, AI bias, safety, and privacy are concerns.
One way to deal with AI's risks is to engage data-literate stakeholders to examine the data processes and outputs. Data literacy allows stakeholders to evaluate the risks of AI systems and the best practices for deploying safe and ethical AI.
#3. Leads to More Innovation
All organizations look for ways to maintain relevance and differentiate themselves from the competition. Investing time and resources in data is a great way to do that. Ensuring data literacy among employees will allow them to discover trends and patterns to make better decisions. They can also solve business problems and innovate to stay ahead of the curve.
Employees with data literacy, or data skills in general, can communicate their discoveries from data to increase sales, increase efficiency, and target customers. Understanding the data also helps them ask the right questions. They can help with business goals by collecting information from the right places at the correct times.
#4. Reduces Data Breaches
Data privacy and security are the most significant concerns in the growing digital world. While unfortunate, breaches and leaks are known to happen. In many cases, data breaches can be prevented.
Overall, data literacy is about thoroughly understanding data. The literate will understand how best to manage and store data to guarantee privacy and security. This means that placing value on data literacy can significantly reduce the risk of data breaches within your organization.
#5. Promotes Future Success and Development
The importance and possibilities of data skills within an organization are growing. Data literacy isn't just reserved for data scientists or analytics teams. Instead, your entire organization can benefit from enhancing its data skills.
"The digital landscape is fast-paced, ultra-connected, and continuing to expand. Because of this, data is everywhere. However, it's only valuable to your organization if you know how to make sense of it."
Stay on top of data in your industry, or your organization could get left behind for not using data to influence development.
Implementing Data Literacy in an Organization
Data literacy is essential; your organization must start building organization-wide literacy programs to stay ahead. The requirements will vary from business to business, depending on the already present aptitude. However, four of the general steps to implementing data literacy in an organization include:
Assess the current competence
Identify any data gaps
Develop goals and objectives
Create a data literacy program including training
TIP: Hire data scientists or Chief Data Officers to manage your business's data collection and analytics.
#1. Assess the Current Level of Data Literacy
Analyze your organization's current level of data literacy so you know what kind of program to deploy. You can do this by asking questions like these:
How many people in your organization can interpret insights, like correlations, from data?
Is anyone in the organization making data-based decisions?
How many people in your organization can explain the data system processes?
These inquiries will help you determine what level of training your organization needs. They will also help you tailor learning programs to specific criteria.
#2. Identify Any Data Gaps
Once you determine the level of data literacy within your organization, you'll be able to identify any data gaps. These could be communication barriers or general lapses in operations that prevent the data from being used to its full potential.
From here, you can work on establishing a data democracy that gives everyone in the organization access to the information. This keeps everyone on the same page about the business's focus and can make addressing gaps in reporting or operations easier.
#3. Develop Goals and Objectives
Developing your goals and objectives is essential when building organization-wide data literacy initiatives. These can be based on your current and desired future data literacy levels. Start by prioritizing the areas of business where increased use of data will have the most significant impact.
#4. Create a Data Literacy Program Including Training
When launching your data literacy program, it's best to start small. Communicate why data literacy is critical and your goals for your organization. Then ensure all your employees have access to it. In some cases, you can start the program one department at a time, so it doesn't get too overwhelming.
Give employees access to the tools they need to meet the goals. Provide ample training time, especially to groups with little to no experience. It's also crucial to include follow-up measures in your data literacy programs to monitor progress.
Barriers to Data Literacy
Every new business development is challenging. Technological advances can prevent generational and cultural hurdles, but those same advances can also cause them.
"Business leaders must manage the ever-changing landscape by teaching data literacy and using it themselves."
Data literacy is an increasingly valuable skill to master. Still, some barriers make it challenging to get all employees on board. A few of the obstacles to data literacy include:
Workplace resistance
No data-focused leadership
Lack of governance
Employee insecurity
Organizational and data silos
#1. Workplace Resistance
Company culture plays a significant role in an organization achieving better data literacy. Organizational leaders need to lead by example and practice a data-first approach. Suppose company leadership isn't following the data best practices. In that case, employees will be less incentivized to put data first.
This disconnect can also lead to workplace resistance. Many organizations are built on years of tradition, and it can be hard for members of those organizations to accept change. Raise awareness about why data literacy is crucial to the organization's future success.
#2. No Data-Focused Leadership
A resistance to change can come from both employees and leadership. That's why bringing on a data professional, like a Chief Data Officer or Chief Analytics Officer, is essential. These data champions can help inform members about data literacy and its value. They can also lead training programs and answer employees' questions about becoming more data-driven.
#3. Lack of Governance
There needs to be strong data governance in place to manage and use data efficiently. Businesses are seeing unprecedented levels of data regularly. Ethical policies can help maintain the data quality and ensure it's being used properly throughout the organization. A lack of governance makes the process of dealing with data more complicated. This puts the quality of your data and insights at risk and can lead to more workplace resistance.
#4. Employee Insecurity
Technological advancements can sometimes be too complex for people to grasp, especially when they're used to operating one way for an extended time. Employees who don't consider themselves tech or data-savvy may clam up when learning new skills because they fear failing or being replaced.
Data literacy programs must be flexible and provide reassurance to employees who need it. Training programs should accommodate various learning speeds and styles to ensure no one is left behind.
#5. Organizational and Data Silos
People who are more data literate typically join IT or analytics teams. This isolates them from other business departments and fosters data hoarding. Avoid data silos to ensure organization-wide data literacy. Create forums where the more data-driven employees can share their knowledge with other departments.
Conclusion
Data literacy is the ability to read, analyze and derive meaningful insights from data. Interpreting and understanding data is crucial for competitive businesses. Meanwhile, the digital landscape is fast-paced, ultra-connected, and continuing to expand. Data literacy is a necessary skill that gives your business a competitive edge. Understanding data and harnessing its power to make decisions can positively influence your organization's future.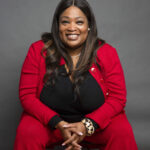 About the Author
Tiffany Perkins-Munn orchestrates aggressive strategies to identify objectives, expose patterns, and implement game-changing solutions with the agility that transcends traditional marketing. As the Head of Data and Analytics for the innovative CDAO organization at J.P. Morgan Chase, her knack involves unraveling complex business problems through operational enhancements, augmented financials, and intuitive recruiting. After over two decades in the industry, she consistently forges robust relationships across the corporate spectrum, becoming one of the Top 10 Finalists in the Merrill Lynch Global Markets Innovation Program.
Dr. Perkins-Munn earned her Ph.D. in Social-Personality Psychology with an interdisciplinary focus on
Advanced Quantitative Methods. Her insights are the subject of countless lectures on psychology,
statistics, and real-world applications. As a published author, coursework developer, and
Dissertation Committee Chair Tiffany still finds time for family and hobbies. Her non-linear career path
has given her an exclusive skill set that is virtually impossible to reproduce in another individual.