Reading Time:
8
minutes
*I frequently get asked questions about Data Science, so in the interest of helping as many people as possible, I've started this blog to answer those questions as simply as possible. This is a robust topic, and if you want a more in-depth discussion, please revisit my blog, where we will be going into greater depth at another time.
Data-informed decision-making uses metrics to influence choices instead of intuition alone. Incorporating data can have a tremendous impact on any company. Learn how to stay ahead of the curve with these four steps, and ensure you make informed decisions to improve processes from start to finish.
It's all about the data these days. Many business owners are not aware of how data can impact everyday operations. Whether we want to admit it, data is an absolute game-changer, and its importance increases each day.
Accurate metrics allow us to make informed decisions while giving business owners a lead to identify. Data-informed decision-making can project growth and can lower overhead costs as well. Without relevant records, businesses are much more likely to reach incorrect conclusions.
Some call data the "oil of the age of information." The reason is that it helps fuel revolutionary concepts regarding goods, services, and innovations. Reliable metrics also streamline operations and ensure fairness among staff. Thus, data-driven companies understand their targets in more depth than those using intuition only.
Table of Contents
What Is Data-Informed Decision-Making?
The 3 Steps to Data-Informed Decision-Making
Step One: Strategize & Identify Key Areas of Opportunities
Step Three: Analyze Your Competition
Things to Avoid When Analyzing Data
Forgetting to Test Run the Data Collection
Not Selecting Software Soon Enough
Projecting Future Market Trends with Data-Informed Decision-Making
Collecting the Data for Better Decision-Making
What Is Data-Informed Decision-Making?
Data-informed decision-making means organizational assessments and judgments based on histories, records, and metrics. It's imperative to strategize, plan, and re-evaluate your findings to implement this business model successfully.
Data collection gathers and measures information on variables of interest in an established systematic order. It enables one to answer stated research questions, test hypotheses, and evaluate outcomes.
What Data Should I Seek?
The key to drawing real value from making data-driven choices is identifying which metrics are most helpful. Your metrics will determine how successful your data-informed decision-making is in various arenas. Acknowledging the metrics will prove crucial to your organization's implementation and growth potential.
Here are the first four questions you should ask to find the information you seek:
What Is My Desired Outcome with Data-Driven Decisions?
How Does My Organization Spell Success?
How Can I Guarantee Data Quality and Accuracy?
When Should I Re-Evaluate Data for Better Decision-Making?
Data quality and timeliness are essential. Analysts must maintain consistency, accuracy, and relevance to power a measurable impact. Then, frequent re-evaluations are necessary to track trends and develop more effective strategies.
The 3 Steps to Data-Informed Decision-Making
Diving into data can feel overwhelming, but it doesn't have to be. Let's discuss the five primary steps to implementing data for better business moves.
Step One: Strategize & Identify Key Areas of Opportunities
To take full advantage of data and analytics, you need to know how to get the most value from your information. In a survey from Deloitte, 49% of respondents said analytics helped them make better business decisions.
Further, 16% said it enabled critical strategic initiatives, and another 10% said it improved relationships with audiences and partners. Implementing a data-driven function begins with identifying areas of opportunities and setting goals.
Step Two: Analyze Your Market
Analyzing your market is imperative to business success, relevance, and competitiveness. A market analysis gathers information about a specific sector within an industry. Then findings reveal the dynamics and behaviors of targeted demographics.
When you conduct a market analysis, consider asking the below questions:
What are the buying habits of my customers?
By acknowledging your customer's buying habits, you will be able to send focused messaging with their wants and needs in mind. This usually turns into increased traffic, conversions, and sales. Understanding your audience's personality can also help establish brand awareness and authority in your industry.
How much are potential customers willing to pay?
Please take note of the market pricing and how it fluctuates. Use the data to set a competitive price for your product or service. Selecting costs that do not align with the current market value can limit the growth of your business and turn potential customers into skeptics.
Who is my competition, and what are their strengths and weaknesses?
Knowing your competition will prove helpful when creating a competitor analysis. It also helps businesses gauge the overall success of various marketing campaigns and other projects. A market analysis can make or break your startup. Yet, analyzing markets enables you to reduce risks and better understand market conditions.
Data-informed decision-making usually means clarity in volatile situations. It helps entrepreneurs and businesses differentiate without assuming costly risks or stepping on competitors' toes.
Step Three: Analyze Your Competition
While your success may be incredible, it's always best to watch out for your competitors. You can do so by generating a competitive analysis. Analyzing the data will also give you the justification and evidence you need to back up any changes or modifications. Reliable data is necessary to stay on the right track and manage the trajectory of your business.
A keen analysis goes beyond looking at competitors' advertisements and social following. It also involves studying their business history to determine how and why they've succeeded or failed. This process demands a comprehensive understanding of trade hierarchy.
To analyze your competition, answer these crucial questions:
Are there similar products on the market, and how much are they?
Suppose a consumer sees similar products but sees two different price points. In that case, the customer may go with the lower-priced option. If you find yourself in this situation, consider price matching or throw in a freebie to make it too hard to pass up.
Do competitor products have any unique selling points?
Going into a competition analysis means being truthful about your business. Truly dissect each part of your inventory and be open to feedback or improvements.
What keywords are they using to describe their products?
Tracking keywords is imperative as it ties directly into search engine optimization (SEO). Using clear and consistent keywords will improve your Google rankings and get your product in front of more consumers.
The end goal is to analyze your competitor thoroughly to determine what does and doesn't work for them. Then you can develop tactics to scoop up their missed targets and turn them into loyal followers of your brand.
Competitor analysis has many advantages but mainly ensures that you are keeping up and matching the efforts of others in the industry. Otherwise, you could get lost in the noise of oversaturated markets despite strengthening your online presence.
Things to Avoid When Analyzing Data
Collecting data may be imperative to implementing changes and gauging success. However, it is possible to collect metrics that may not be entirely useful. Here are a few items to avoid when analyzing the information you find.
Asking Only Closed Questions
Avoid asking questions that aren't tailored to your brand, market, or average customer. The reason is that specific inquiries can present a skewed view, which may lead to an adverse impact on your business. It's best to do your research and ask open-ended questions.
Open-ended questions reveal more detail and support better feedback. In the end, open-ended questions can yield more accurate information and actionable insight. You may even learn something new or notice another idea for improvement.
While closed questions can lead you to the answers you may seek, they may be a disservice to you, your brand, and your efforts. Closed questions can inadvertently lead your customers to the correct answer. One key component is to know when you'll need quantifiable replies for statistical analysis and when you'll benefit from giving your respondents greater freedom of self-expression.
Forgetting to Test Run the Data Collection
Can you imagine running a thorough analysis for months, only to find out the data collected cannot be utilized? Unfortunately, this can happen if a test data set is not completed beforehand. To ensure you're collecting useful (and clean) information, check it for accuracy often and dispose of any duplicates. Then take note of your findings.
Once you have generated your questions and test range, create a sample analysis to ensure the data collection runs according to plan. Running a trial run can also provide a glimpse of what to expect once the test segment is complete. This is a more proactive approach that will pay off in the long run.
Not Selecting Software Soon Enough
Not all software analyzing tools are the same. While they may have similar outcomes, each device can vary from the previous. Whichever software analyzing tool you choose, do a deep dive into how it works and determine its preferred transmission methods.
Did you notice any minor tweaks that may need to be enforced? Any small error from commas and spacing may require updating before running a more extensive analysis. Don't worry too much, as there will be rules to assist.
In addition, forms and data collection instructions can always be modified based on the trial run. This may sound like a small step, but it can save hours once the data has been collected.
Projecting Future Market Trends with Data-Informed Decision-Making
The final step to data-informed decision-making is projecting future market trends using quality metrics. Anticipating the future may sound intimidating, but it helps identify previous movements and can reveal vital patterns. Trend forecasting can be thought to bridge the gap between the data and reality.
Here are some critical questions to ask:
What patterns can I identify?
Have you noticed any particular trends in your data set? Perhaps a spike in the percentage of customers on a specific day or a certain time frame?
How could this impact the current goals?
Analyzing the data means finding out what improvements or tweaks need to occur. Take a moment to review the metrics in detail. Then reassess whether your current process needs tweaking.
How Does This Impact Your Customers?
In most cases, analyzing data and trend forecasting benefits your customers. It also helps you give people a detailed outline of any changes.
Trend forecasting is important because it helps prevent businesses from spending resources on products that may not be successful or align with their target audience. Getting to know your customers provides insight into their habits, wishes, and complaints. Data-informed decision-making empowers companies to gain trust and retain their faithful following.
Collecting the Data for Better Decision-Making
Data-informed decision-making involves various methodologies to collect as much information as possible. One technique consists of direct market research and guided feedback. Collecting data from your current customers is an effective way of determining different facts or figures.
Don't be afraid to conduct surveys and offer incentives for public opinion. Direct data collection means customers feel heard by company directors. They're more likely to share your brand with others when they have a positive experience.
Meanwhile, intuitive information typically requires diligent analytics to avoid pitfalls and oversights. Online shopping platforms are excellent examples of data integration supporting seamless trend tracking. Customers select an item and see similar products based on their search history when shopping online.
Marketing teams can gain insight into what the consumer likes by suggesting similar goods and services. They can also push products that will increase the likelihood of the visit resulting in a sale. If nothing else, organizations can find out why their current strategies aren't working as intended.
Today, there are many data analysis tools and software programs to evaluate metrics in real-time. Whether you'd like a fundamental study or more in-depth research, data analytics provide helpful information to promote better business moves.
Data-informed decision-making means finding something to inspire everyone. Businesses can customize their approach and specify metrics to accomplish company goals and stay ahead of trends.
Conclusion
Data-informed decision-making enables companies to work more efficiently and enjoy a higher success rate for every marketing dollar. The amount of return provided by precision metrics depends on each organization's approach. However, data never lies.
Reliable information is vital because it enables business owners to observe data in real-time. They can create predictive insights and develop goals that elevate industry standards. DIDM also encourages relevant research about what does and doesn't work within each group.
Developing a revealing data-driven plan is an ongoing process. Don't get discouraged if you can't find improvements or make changes immediately. Get ready for some trial and error. As you uncover different aspects of your company and the competition, prepare to increase market momentum and share the results with your team.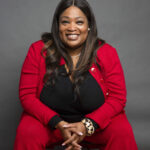 About the Author
Tiffany Perkins-Munn orchestrates aggressive strategies to identify objectives, expose patterns, and implement game-changing solutions with the agility that transcends traditional marketing. As the Head of Data and Analytics for the innovative CDAO organization at J.P. Morgan Chase, her knack involves unraveling complex business problems through operational enhancements, augmented financials, and intuitive recruiting. After over two decades in the industry, she consistently forges robust relationships across the corporate spectrum, becoming one of the Top 10 Finalists in the Merrill Lynch Global Markets Innovation Program.
Dr. Perkins-Munn earned her Ph.D. in Social-Personality Psychology with an interdisciplinary focus on
Advanced Quantitative Methods. Her insights are the subject of countless lectures on psychology,
statistics, and their real-world applications. As a published author, coursework developer, and
Dissertation Committee Chair Tiffany still finds time for family and hobbies. Her non-linear career path
has given her an exclusive skill set that is virtually impossible to reproduce in another individual.