Reading Time:
10
minutes
*I frequently get asked questions about Data Science, so in the interest of helping as many people as possible, I've started this blog to answer those questions as simply as possible. This is a robust topic, and if you want a more in-depth discussion, please revisit my blog, where we will be going into greater depth at another time. 
Machine learning for marketing allows businesses to enhance their marketing strategies through personalization, automation, and gathering insights from customer data. Your customers want more personalization and more engagement from your brand online, and machine learning can make that possible without adding extra work for your team. Read on to learn how machine learning is changing the marketing game and how you can cash in, even if you're not a data scientist.
Machine learning for marketing is an innovative way to take your marketing campaigns to the next level. You may think that concepts like artificial intelligence and machine learning are reserved for tech giants like Google and Facebook, but that's not the case. Any company or industry can benefit from using machine learning for marketing.
From targeted ads to recommender systems and increased personalization, there is no shortage of use cases for machine learning in marketing. It can be used to improve both your customers' experience as well as the success of your marketing campaigns. Read on to find out how machine learning for marketing is changing the game and how you can implement these strategies in your next campaign.
Table of Contents
What Is Machine Learning in Marketing?
How To Improve the Customer Experience with Machine Learning
#1. Personalization and Customization
How To Enhance Marketing Campaigns with Machine Learning
#3. Dynamic Pricing and Demand Forecasting
Machine Learning and Customer Engagement
Ethics and Responsibilities in Machine Learning for Marketing
#2. Transparency and Accountability
What Is Machine Learning in Marketing?
Machine learning is a branch of AI that uses data and algorithms to imitate the way humans learn, thus training the machine to apply solutions to problems and improving its accuracy over time.
Machine learning has been used in marketing for several years to help improve sales by allowing marketers to get a better understanding of their customer base and reach them effectively by making data-driven decisions. Machine learning for marketing makes it much easier for marketers to analyze large data sets to generate insights about the industry, market, trends, and customer profiles that may have been harder to reach without the help of machine learning.
No matter how you use machine learning for marketing, there are several benefits, including decreased costs and improved performance and forecasting. Some of the ways machine learning for marketing is used include:
Customer Segmentation
Recommendation Systems
Chatbots
#1. Customer Segmentation
Marketers can use machine learning to gather customer data and then use that data to divide them into groups or segments based on demographics like location and age, purchase histories, as well as how they interact with your company. What's more, machine learning can automate this process.
Segmentation is valuable because it can be used to develop personalized marketing campaigns for each group. For example, suppose one of your segments consists of younger customers who only interact with your brand on Instagram. In that case, you can create a targeted campaign for that group that will likely have a higher success rate and improve your customer satisfaction.
#2. Recommendation Systems
Recommendation systems are widely used across several industries and are likely the machine learning for the marketing use case you're most familiar with. Think of Netflix's recommendation system that pushes movies and TV shows you might like based on your watch history or the recommendations that appear based on your purchase history on Amazon.
These systems are great tools to push new products to your customers and to encourage them to buy more, thus boosting your sales while simultaneously increasing the amount of interaction your brand has with customers.
#3. Chatbots
Chatbots are becoming more and more popular, and machine learning is used to make chatbots more intelligent and human-like. These chatbots can provide easily accessible customer service and personalized recommendations, all while keeping customers on your page for longer.
Several major companies are already using chatbots in innovative ways. Sephora has a chatbot that helps shoppers narrow down their makeup choices by asking customers questions and directing them to the right products. Starbucks also uses a chatbot on its app that allows customers to place orders and then remember past orders and makes recommendations based on preferences.
How To Improve the Customer Experience with Machine Learning
No matter what industry you're in, machine learning has been proven to be a valuable tool in both improving your bottom line and running operations more effectively and efficiently — and this includes the general customer experience.
As previously mentioned, there are several ways to use machine learning for marketing, all of which have different benefits depending on what you want to achieve. When it comes to using machine learning to improve the customer experience, there are a few key ways to do that:
Personalization and Customization
Predictive Analysis
Targeting
#1. Personalization and Customization
In today's digital landscape, personalization is a big deal. People — including your customers – want the content they encounter to feel customized just for them, and by using machine learning for marketing, that's more possible than ever.
By diving into customer data, you'll have a better understanding of who your audience is and what they like, allowing you to personalize the individual shopping experience. Customer data can include things like on what platform they interact with your business the most, purchase histories and patterns, and various demographics.
Through both customer segmentation and increased personalization, you will be able to reach and engage with customers in a more effective and meaningful way. For example, you can use machine learning to optimize your email marketing strategies. Instead of using guesswork to determine the best time to send emails, you can use customer data to personalize the approach, ensuring your audience is receiving your emails at the best possible time.
#2. Predictive Analysis
Customer data is also valuable when predicting customer behaviors, both on a group and individual level. Machine learning for marketing can be used for predictive analysis, which uses machine learning algorithms to analyze historical data — often from sources like customer transactions and website interactions — and predict future outcomes.
Making predictions based on data gives you an idea of what your customers will be interested in or how they'll behave in the future, which puts you in a position to push content and products at the optimal time. The predictions that machine learning for marketing can generate are actionable and can influence how customers are served — like by sending out a targeted campaign to a specific audience because they've historically responded well to those campaigns in the past and based on data and predictions, they'll likely respond positively again.
Using machine learning for predictive analysis is also a great way to ensure customers are seeing the content that is most relevant to them. This leads to better recommendations — which could mean more sales.
#3. Targeting
Effectively targeting customers is a big part of marketing, and machine learning can help enhance it. Targeted ads are one of the biggest ways machine learning has impacted marketing strategies.
By using customer data and predictive analytics, you can develop marketing strategies that are targeted to a specific audience or even to individuals. Targeted ads have been found to increase both customer engagement and conversion rates, as has been seen with major companies like Nike and Airbnb.
When you know your customers and understand them well, you'll know the best ways to reach them, and machine learning for marketing uses accurate algorithms that can help you figure out those best strategies. Not only is this great for your bottom line, but it also makes your customers feel like your business knows them and cares about them on an individual level, which can improve brand loyalty.
How To Enhance Marketing Campaigns with Machine Learning
Machine learning is such a valuable and innovative technology, and your business could be missing out without it, especially in the marketing department. Many companies are already using machine learning for marketing and seeing significant benefits.
In this digital age, data is abundant — specifically your customers' data — and taking advantage of data insights with the help of machine learning can change the way your customers interact with your business. Some of the ways you can enhance marketing campaigns with machine learning include:
Improved Optimization
A/B Testing
Dynamic Pricing and Demand Forecasting
#1. Improved Optimization
Machine learning is a great tool to use to optimize all aspects of your marketing strategies. Machine learning helps marketers make more informed decisions by utilizing data-driven insights and optimizing marketing efforts.
Machine learning can help with content optimization, which is the process of analyzing how different pieces of content perform, gathering data, and then using that to inform future content. For example, machine learning algorithms can analyze how different social media posts perform, identifying patterns via sources like website analytics and social media activity. Then, based on the data gathered, the algorithms can help you optimize future content.
Machine learning for marketing can also help with SEO optimization, optimizing targeted ad campaigns, and even marketing budgets.
#2. A/B Testing
The A/B testing process allows marketers to test various options for content and strategies, whether it be ad graphics on social media, email subject lines, or slogans, to see which option garners the best results.
Machine learning can make A/B testing more efficient by having the capacity to analyze larger data sets at once, generating more insights. Those insights can then be used to drive future marketing strategies.
#3. Dynamic Pricing and Demand Forecasting
Dynamic pricing is the concept of setting prices based on current market conditions. For example, Uber and Lyft use dynamic pricing during rush hour or poor weather by increasing prices to cash in on the environmental conditions.
Machine learning can enhance dynamic pricing by offering more flexibility than traditional rule-based dynamic pricing practices and relying on data insights to inform pricing.
Machine learning can also enhance your marketing strategies through demand forecasting. Demand forecasting is the process of estimating future demands for products and services. Demand forecasting can also help influence pricing, as prices grow as demand increases and vice versa.
Demand forecasting helps you keep your business on top of its game by keeping a finger on the pulse of your audience and meeting their demands in a timely fashion which keeps your customers happy and can increase your sales, revenue, and engagement.
Machine Learning and Customer Engagement
Machine learning for marketing can have a major impact on customer engagement. Look at chatbots, for example. More and more businesses, both big and small, are starting to implement chatbots in their customer service department as they're becoming increasingly efficient.
Chatbots can answer customer questions and direct them to the right solutions, helping improve wait times for traditional customer service. They can also give product recommendations and engage with customers while they're on your webpage, reimagining the customer service department and making it more robust.
Recommendation systems are another big way to improve customer engagement with machine learning. Recommendation systems are great at upselling as they can suggest products to your customers during their shopping process and checkout based on what they've viewed and purchased in the past.
Two other ways machine learning for marketing can amp up customer engagement include:
Social Media Monitoring
Sentiment Analysis
#1. Social Media Monitoring
Social media monitoring is a standard practice already, as platforms like Instagram and Twitter have built-in analytics tools that allow marketers to determine how successful past posts were. These tools also track engagement, including the number of likes, comments, views, and click-through rates.
Machine learning algorithms on social media typically prioritize more recent posts over older ones, so marketers can use this data to strategically schedule posts at peak times. It's also possible that in the future, machine learning and AI will be able to collect data on social media to make recommendations for how to best engage with an audience through strategically liking and commenting on specific content.
#2. Sentiment Analysis
Sentiment analysis is a machine learning technique that can determine whether a piece of writing — like a comment or review — is positive, negative, or neutral. Bots sift through customer feedback and then categorize based on whether it's positive or negative.
These bots can also read comments on social media to determine how people are feeling about a business, as well as what its online reputation is. Based on this information, you can target people who may be having issues with your company and directly address their concerns. This ability to program a machine to read human emotion can greatly improve your customers' experience when interacting with your brand without adding extra work for your marketing team.
Ethics and Responsibilities in Machine Learning for Marketing
There's no doubt that AI and machine learning have evolved in impressive ways, revolutionizing several industries and improving efficiency across the board. But these technological advancements also yield some ethical concerns for the companies using them.
Marketers have an ethical responsibility to ensure customer data is being used safely. It's also important that marketing teams be aware of the potential for bias to be present in AI and machine learning algorithms.
Machine learning for marketing can have great benefits that reimagine what marketing teams previously thought was possible, but they must be aware of the ethics and responsibilities involved in working with this tech, like:
Data Privacy and Security
Transparency and Accountability
#1. Data Privacy and Security
In the increasingly digital-focused world, data privacy and security are a big concern for most people. If your company wants to maintain a good reputation and relationship with its customers, it must have policies and practices in place to protect consumer data.
It's important to be clear about what consumer data is being used for and ensure it's not being used for anything else, as that could be a breach of trust between your business and its customers. This means you shouldn't sell customer data, leak sensitive information or use customer data to fuel any harmful or offensive targeted campaigns.
#2. Transparency and Accountability
Marketers also have an ethical responsibility to be transparent when using machine learning for marketing. For example, if there's a chatbot on your website, let customers know up front that they're engaging with AI and not a human. Being transparent about the tech you're using and what you're doing with data is all part of forming trusting relationships with your customers and building up your brand's reputation.
Much like transparency, accountability is also crucial when working with tech like machine learning. In the event your business or marketing team does something wrong, like misleading customers or using customer data for something they shouldn't have, it's extremely important to take accountability.
Despite the situation or how hard it may seem, taking accountability can show that your business has redeeming qualities and understands right from wrong, despite how upset your audience may be.
Conclusion
Machine learning for marketing is an innovative way to take your marketing campaigns to the next level. You don't have to be a tech giant, or a data scientist, to use machine learning in your marketing strategies. Any business of any size in any industry can make great use of machine learning algorithms to enhance its marketing efforts.
From targeted ads to recommendation systems and increased personalization, there is no shortage of use cases for machine learning in marketing. It can be used to improve your customers' experience and engagement, the success of your marketing campaigns, as well as your bottom line.
In today's digital age, with an abundance of data around us at all times, it's important that businesses start incorporating machine learning in their marketing strategies to take advantage of the valuable insights buried in their customers' data.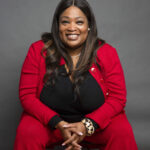 About the Author
Tiffany Perkins-Munn orchestrates aggressive strategies to identify objectives, expose patterns, and implement game-changing solutions with an agility that transcends traditional marketing. As the Head of Data and Analytics for the innovative CDAO organization at J.P. Morgan Chase, her knack involves unraveling complex business problems through operational enhancements, augmented financials, and intuitive recruiting. After over two decades in the industry, she consistently forges robust relationships across the corporate spectrum, becoming one of the Top 10 Finalists in the Merrill Lynch Global Markets Innovation Program.
Dr. Perkins-Munn earned her Ph.D. in Social-Personality Psychology with an interdisciplinary focus on Advanced Quantitative Methods. Her insights are the subject of countless lectures on psychology, statistics, and real-world applications. As a published author, coursework developer, and Dissertation Committee Chair, Tiffany still finds time for family and hobbies. Her non-linear career path has given her an exclusive skill set that is virtually impossible to reproduce in another individual.