Reading Time:
8
minutes
*I frequently get asked questions about Data Science, so in the interest of helping as many people as possible, I've started this blog to answer those questions as simply as possible. This is a robust topic, and if you want a more in-depth discussion, please revisit my blog, where we will be going into greater depth at another time.
Data visualization is a valuable tool for making data-driven decisions, improving collaboration, and keeping a pulse on emerging trends in your industry. These tips will tell you everything you need to know about it and how it can help enhance your company.
Data visualization is putting information into a visual representation like a chart, diagram, graph, or picture. This allows you to see data analytics visually, making it easier to identify connections and patterns.
What makes data visualization such a valuable tool for businesses? How can you use it to help your company thrive? Here is what you need to know.
Table of Contents
What is Data Visualization?
#1. Idea Illustration
#2. Idea Generation
#3. Visual Discovery
Types of Data Visualization
How Can Data Visualization Help Your Company?
#1. Faster Decision-Making
#2. Identify Hidden Patterns and Insights
#3. Improves Communication and Collaboration
#4. Identify Emerging Trends
#5. Increases Productivity
Data Visualization Best Practices
#1. Set the Context
#2. Know Your Audience
#3. Use Effective Visuals
#4. Make it Simple
Conclusion
What is Data Visualization?
Data visualization represents data and information through graphics like charts, graphs, diagrams, and even animations. The purpose of data visualization is to display information. It helps communicate data relationships and insights in a way that's easy for virtually anyone to understand.
Since we're exposed to so much data daily, data visualization is important because it makes the data easier to understand and interact with. It's also a crucial skill to have. Whether you're a data scientist or not, data visualization skills can be helpful in various fields. Practically every industry collects data.
Data visualization is also becoming a very in-demand skill. Employers want to hire people who can use the data their company collects. They also want to enhance operations with better data-driven decisions. There are countless uses for data visualization across a variety of industries.
Along with general, everyday data visualization, there are three other categories of data visualization:
Idea Illustration
Idea Generation
Visual Discovery
#1. Idea Illustration
Data visualization for idea illustration is most used in learning situations like a tutorial or certification course and assists in conveying ideas. Idea illustration can visually represent organizational structure and help facilitate tasks and communication. For example, project managers often use waterfall charts to illustrate workflows.
#2. Idea Generation
Data visualization can also help generate ideas within teams during brainstorming sessions. These visuals are typically less structured and formal. They serve to visualize different ways to display data and improve communications and operations. This can eventually lead to more polished visuals.
#3. Visual Discovery
Visual discovery in data visualization is the process data scientists, analysts, and other professionals use to identify patterns and trends within a data set. Visual discovery can make gathering insights and data-driven decisions more accessible because you can simultaneously see all the data and potential connections.
Types of Data Visualization
When most people think of data visualization, their mind likely jumps to simple bar graphs and pie charts that they've seen multiple times. These simple graphs are essential data visualization tools, but they're just the tip of the iceberg.
There is a wide variety of data visualization graphics to choose from. Some of the general types of data visualizations you've likely seen include:
Charts
Tables
Graphs
Infographics
Dashboards
Geospatial Maps
There are also more specific types of data visualization that have more niche uses, including:
Box-and-Whisker Plots
Gantt Charts
Histograms
Heat Maps
Bullet Graphs
While it is possible to create all these visuals by hand, that's not necessary. Data visualization software is available to make the job significantly easier. These tools can be simple and user-friendly or much more complex, depending on your team's skill level and what you're looking to achieve.
How Can Data Visualization Help Your Company?
"In today's increasingly data-driven world, lacking data skills in your company can be a big mistake that sets you back behind your competition."
As companies continue collecting information, data visualization skills will become more critical. There needs to be an efficient way to display it.
Regardless of the industry, you can likely benefit from making the data you gather easier to understand. There are several ways in which data visualization can help improve your company or organization, five of which include:
Faster Decision-Making
Identify Hidden Patterns and Insights
Improves Communication and Collaboration
Identify Emerging Trends
Increases Productivity
#1. Faster Decision-Making
Data visualizations take large amounts of data that may otherwise be hard to understand and creates clear cohesive visuals. It helps make comprehending information much more manageable. Not only does it become easier to understand, but it can also help you grasp concepts more quickly.
As a business, you should always keep your competitors in mind and strive to maintain an edge in your industry. Being able to fully grasp your data and make decisions based on it quicker than your competitors can is a great way to stay ahead of the curve.
Also, by tapping into your company's data and reaching a level of understanding with the help of data visualization, you'll be able to make better, data-driven decisions. Instead of guessing what option may work best, you'll have the data to back it up. This can help you avoid wasting time on projects that don't have a guarantee to be effective. It can also allow you to issue more targeted initiatives based on your data.
#2. Identify Hidden Patterns and Insights
One of the main points of data visualization is to see the data more comprehensively. The idea is to identify patterns, insights, and significant trends that aren't easily spotted in traditional forms of representation. Data visualization can help your sales team make more efficient forecasts. It can also help you learn more about your customers and the best ways to reach them.
"Visualizing data lets you see all factors and evaluate how they interact with each other."
You can also use data visualization to gather insights into your own operations. For example, you can identify any bottlenecks in your processes or areas that could use some improvement that you may have missed otherwise.
#3. Improves Communication and Collaboration
Collaboration and communication are two vital keys when it comes to being successful in business. When working with data within your company, visualizing helps to get everyone on the same page. Whether they're data fluent or not or simply a more visual learner, graphics can help make the information clear.
This allows you to enhance communication between the different departments in your company to accomplish tasks, significantly increasing the level of efficient collaboration in your organization. When your company fosters collaboration, you're fully utilizing every one of your employees' strengths and skills. That means more innovation and better problem-solving skills.
#4. Identify Emerging Trends
You can use data visualization to uncover trends in your company or industry. However, you can also gather valuable insights about specific markets, target audience groups, and competitors. Perhaps you want to launch a new product but are unsure how to sell it. Data analytics lets you research based on those criteria to develop better marketing strategies.
Study predictions and projections to prepare for future events in your industry. Use data visualization to determine which strategies are most viable. Using data visualization can give you a significant competitive edge. It allows you to identify emerging trends before they blow up and take advantage of them before anyone else.
#5. Increases Productivity
Data visualization can increase productivity throughout your company. Being able to quickly and efficiently visualize data makes finding information less time-consuming. This makes it easier for anyone in your organization, even those not well-versed with data, to access the information they may need.
Being more productive generally impacts your bottom line, as well. If your operations are running smoothly, you'll likely be producing and selling more, thus making your company more money. Making more efficient data-driven decisions also helps with this. Investing in data visualization and improving your employees' skill sets can lead to significant revenue growth.
Data Visualization Best Practices
Suppose you're looking to introduce data visualization to your company operations. In that case, plenty of tools and resources are available to utilize. Meanwhile, it's common to see ineffective data visualizations that can do more harm than good.
"Data visualization is simple and deliberate to ensure the information is presented correctly and conveys your intended message."
To make sure you don't make a data visualization faux pas, there are a few best practices to keep in mind to ensure your data visualization is clear and valuable, including:
Set the Context
Know Your Audience
Use Effective Visuals
Make it Simple
#1. Set the Context
Not everyone in your company will be experienced with data. Some won't understand what you're showing them or why you promote data visualization. For the visuals to be compelling and make sense, you need to provide some context for the data.
You need to show why the data points you're presenting are essential and how they connect to other operations in the company. You'll only be able to drive actions from your audience if you can get them to understand the importance of the data and then connect that to a tangible goal or benchmark. And to do this effectively, context is crucial.
#2. Know Your Audience
Keep your audience in mind when designing the data visualization process. What does the person care about? What questions or concerns do they have? How can your data-driven visuals help them understand complex concepts? Will they want to know more?
You should ensure your data visualization addresses these things while also being compelling enough to drive action where it's needed. Data visualization should be assertive and convincing, with real-time data to support your claims. Otherwise, your hard work collecting and collating the data could go to waste.
#3. Use Effective Visuals
There are specific types of visuals for particular kinds of data. For example, heat maps will give you geographic information. Meanwhile, scatter plots are better for comparing the relationship between two variables.
"Data literacy skills can help you determine which tools to use for each project."
Before designing a data visualization, examine the type of data you're working with. This can help you determine what kind of graphic will work best. It also allows your audience to understand the main takeaway you're presenting. Using the wrong type of visual for your data set can confuse your audience and make it harder for you to get them on board.
#4. Make it Simple
If you want to, you can get crazy with the data visualization tools available and add all kinds of features to your visual. However, that isn't always necessary and can even bog down the graphic and make it harder to understand.
You want your visuals to be straightforward and hold your audience's attention where needed. It's best to avoid getting too fancy with your data graphic and keep it simple instead. When designing, you should aim to have the maximum impact possible and eliminate anything that may be distracting.
Conclusion
Data visualization is putting information into a visual representation like a chart, diagram, graph, or picture. This allows you to see data analytics visually, making it easier to identify connections and patterns.
In today's increasingly data-driven world, lacking data skills in your company can be a big mistake that sets you back behind your competition. There are countless ways in which this can help you level up your company operations. With so many software tools available, getting your company's information is easier than ever.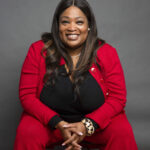 About the Author
Tiffany Perkins-Munn orchestrates aggressive strategies to identify objectives, expose patterns, and implement game-changing solutions with agility that transcends traditional marketing. As the Head of Data and Analytics for the innovative CDAO organization at J.P. Morgan Chase, her knack involves unraveling complex business problems through operational enhancements, augmented financials, and intuitive recruiting. After over two decades in the industry, she consistently forges robust relationships across the corporate spectrum, becoming one of the Top 10 Finalists in the Merrill Lynch Global Markets Innovation Program.
Dr. Perkins-Munn earned her Ph.D. in Social-Personality Psychology with an interdisciplinary focus on
Advanced Quantitative Methods. Her insights are the subject of countless lectures on psychology,
statistics, and real-world applications. As a published author, coursework developer, and
Dissertation Committee Chair Tiffany still finds time for family and hobbies. Her non-linear career path
has given her an exclusive skill set that is virtually impossible to reproduce in another individual.